Are you and your family totally prepared for destructive effects of a tropical storm or a hurricane? Disasters don't plan ahead. But you can.
Before weather emergencies, it is important to have a plan in place for emergency supplies, food, and water.
Try to assemble your supplies well in advance of an emergency. You may have to evacuate at a moment's notice and will not have time to search for the supplies you need.

Food Safety Training - 10% OFF Sale
Learn about foodborne hazards and pathogens, cross contamination, temperature controls, cleaning and sanitation methods, and the best practices to prevent foodborne illnesses.
Food Manager ANSI Certification: SALE $99.00
Food Handler ANSI Training for only $7.00!
Enter Promo "train10off" at Checkout
Before: Assemble Emergency Supplies and a Disaster Kit
Make a plan with the necessary food, water, and items to get you through the various types of emergencies for your locale. A disaster (emergency) supplies kit is simply a collection of basic items you may need in the event of an emergency. Have different kits ready:
home emergency supplies (shelter-in-place);
grab-and-go emergency supplies (mobile);
vehicle emergency supplies (in case you are stranded in vehicle).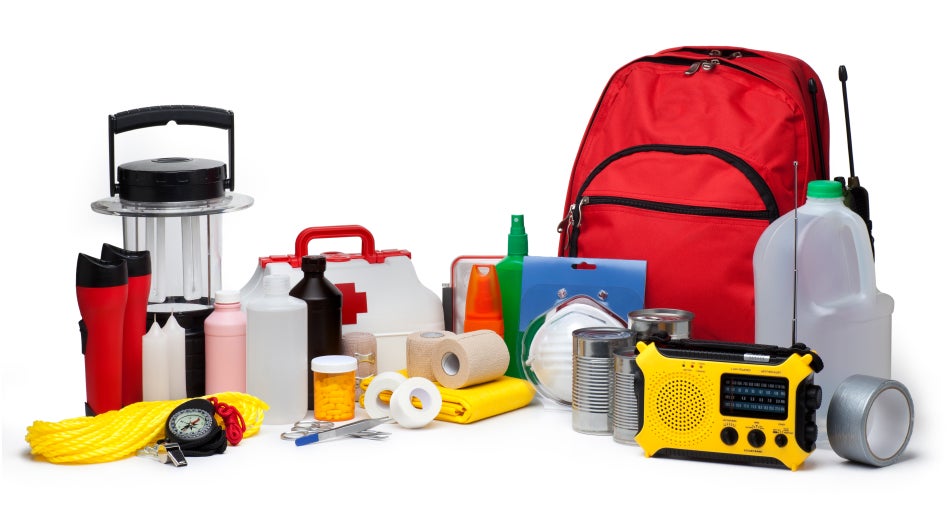 Before: Emergency Food and Water
Make a plan with the necessary food, water, and items to get you through the various types of emergencies for your locale. Make sure you include the following items to last at least three days:
canned and/or dried food – luncheon meat, ham, fish, fruits, vegetables, cereals, tea, coffee, powdered soup, salt, sugar, sweets, biscuits, a can opener. Check and renew food and water every year, taking into account medical or dietary conditions in your family. If you have babies or children, make sure they have enough suitable food.
portable gas cooker or barbeque
eating equipment – utensils, knives, pots, cups, plates, bowls, matches, lighters
bottled water (drinking) – 3 pints per person per day, or 6 to 8 large plastic soft-drink bottles of water per person per day
bottled water (washing/cleaning) – 1 pint for washing food and cooking each meal, washing dishes and washing yourself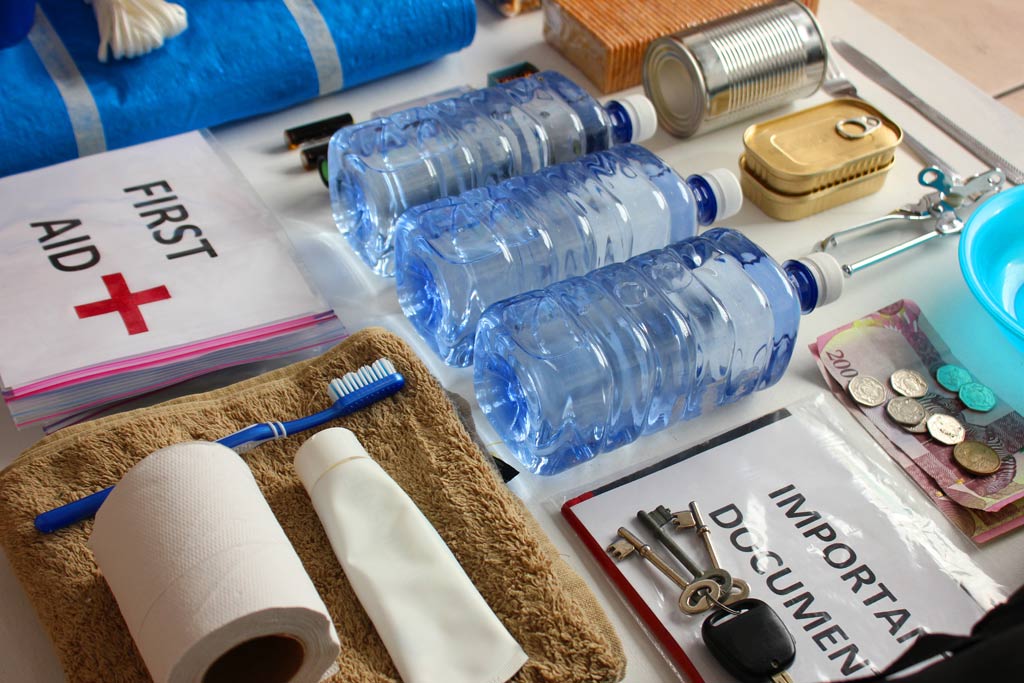 Emergency Supplies Checklist
Prepare and use an Emergency Supplies Checklist (see below). Here's a free printable emergency supplies checklist, with a items necessary for your emergency preparedness kit.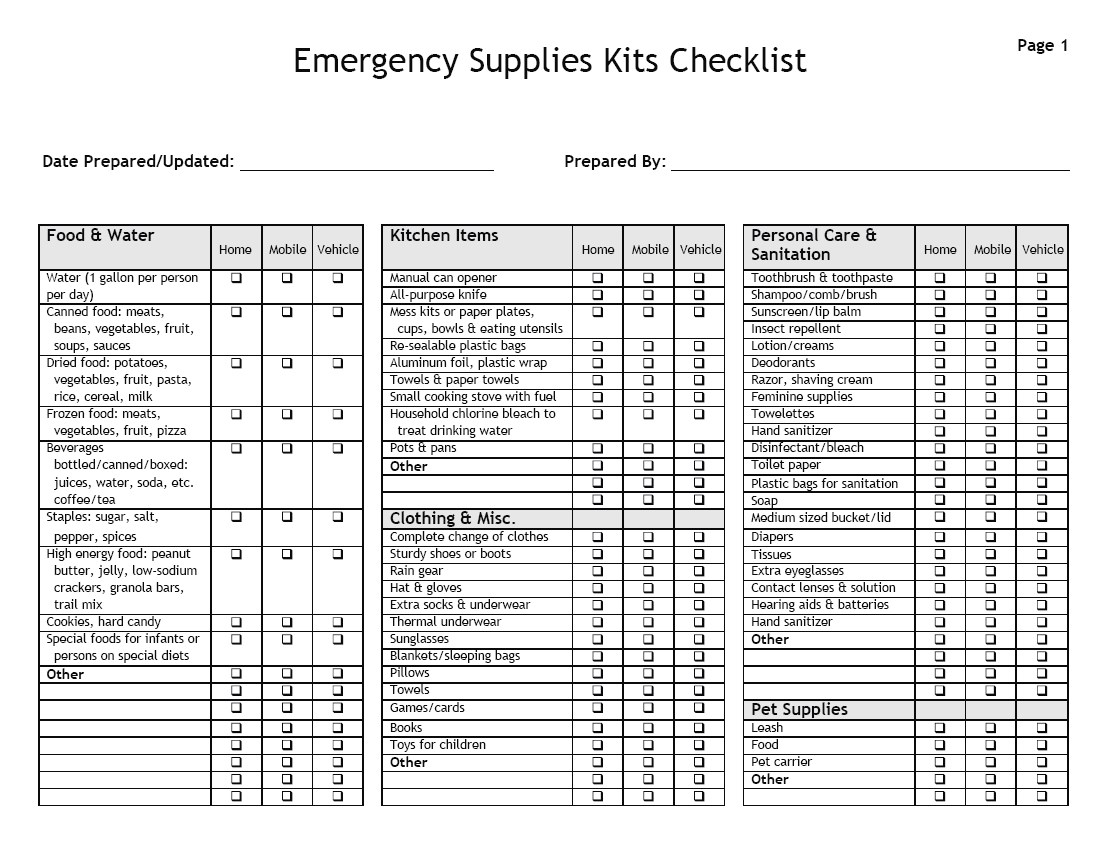 Consumer's Guide to Food Safety: Severe Storms and Hurricanes
Reference: USDA: A Consumer's Guide to Food Safety: Severe Storms and Hurricanes (PDF 2.1MB)
This guide has five sections and will help you make the correct decisions about food safety and keeping your family safe from foodborne illness before, during, and after a disaster emergency.
Power Outages
Safety of Food in Containers Exposed to Flood Waters
Removing Odors from Refrigerators & Freezers
Refrigerator Foods
Frozen Food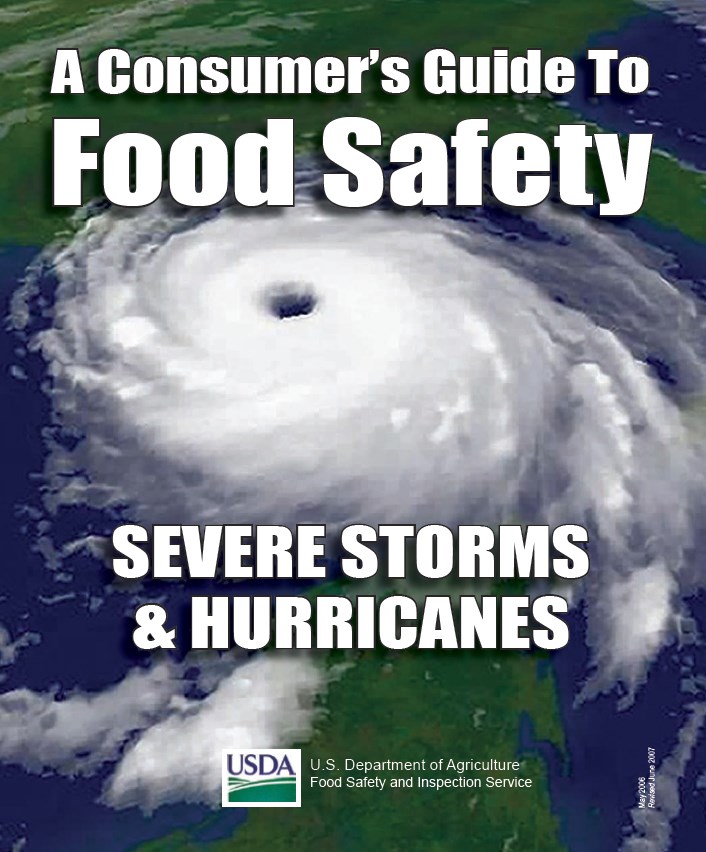 Flood or Power Outage: Be Food Safe
If your power has gone out recently, the USDA recommends some steps to take:
Avoid opening the fridge and freezer doors unless you need to. If kept closed, the food will stay cold for longer — a shut refrigerator will keep food cold for about four hours while a full freezer will hold its temperature for about 48 hours (24 hours if half-full).
Place meat and poultry to one side of the freezer or on a tray. This helps prevent cross contamination of thawing juices.
Use dry or block ice to keep the refrigerator as cold as possible. Fifty pounds of dry ice should keep a fully-stocked 18-cubic-feet freezer cold for two days.
Food Cooler. Coolers filled with ice can preserve food slightly longer during a power outage.
Food Thermometer. Having a digital thermometer to check the internal temperatures of food ensures they're cold enough to use safely.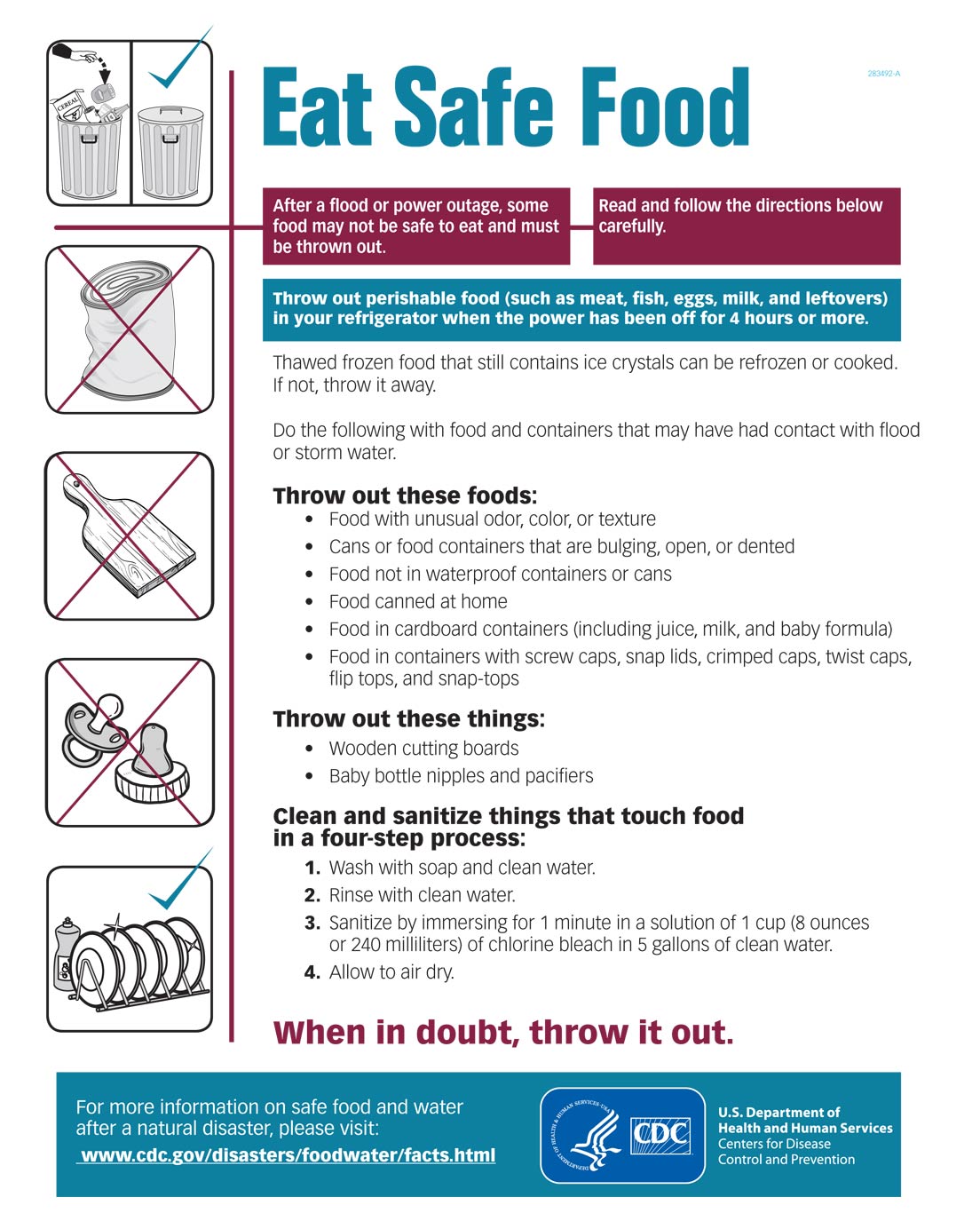 Additional Resources